Nanotechnology in the agro sector: how TNS Nano influences the sector
"Muitas pesquisas com nanotecnologia no setor agro estão focadas na redução do uso de pesticidas e agrotóxicos, aumentar a eficiência dos fertilizantes, promover o aumento da produtividade, evitar o desperdício e perda de insumos ou produtos."
No primeiro trimestre de 2021, o setor agro no Brasil cresceu 5,7% quando comparado com o mesmo período em 2020.
Em suma, esse resultado positivo é fruto de plentiful harvests e fortes investimentos em tecnologias para a agropecuária.
Segundo o Instituto Brasileiro de Geografia e Estatística (IBGE), a alta em relação ao ano passado ocorreu pelo aumento da produção e ganho de productivity nas lavouras de soja (+8,6%), fumo (+3,6%) e arroz (+0,3%).
Soybeans stand out, which has a record forecast for this year's harvest.
The boom in the sector agro indicates an important milestone for the recovery of the Brazilian economy.
In order to increase and optimize the good results, providing productive efficiency with sustainability, it is necessary to invest in technologies for the field.
Following the evolution of the sector, TNS develops chemical solutions in order to add technology to the Brazilian market.
Read more: TNS is elected the Startup number # 1 in the Agro segment
Trend in Agro
Megatrend studies carried out by Embrapa (Brazilian Agricultural Research Corporation) in partnership with other bodies and institutes point to a forecast of the agribusiness for the next ten years.
The study called: "Vision 2030: the future of Brazilian agriculture", analisa pontos como mudanças climáticas, socioeconômicas e espaciais relacionadas ao futuro da agricultura.
Cerca de 84% dos produtores que participaram da pesquisa utilizam ao menos uma tecnologia no processo de produção; 70% usam internet e tecnologia em atividades relacionadas à produção rural.
Nesse sentindo, indica uma necessidade cada vez maior do uso das tecnologias para o setor agro.
Read more: Nanotechnology in agriculture: the opportunity to produce more with less
Challenges in crops
Independentemente do tamanho da lavoura, os desafios são os mesmos na agricultura, sendo eles: clima, pragas, doenças no plantio, variação do preço dos insumos agrícolas, produtividade e perdas, acesso às tecnologias, custos operacionais, infraestrutura adequada e logística de distribuição.
All these factors impact from sowing to the post-harvest na vida do produtor rural.
Mesmo diante de tantos desafios, o setor agro é essencial e continua com crescimento favorável.
O Brasil tem um enorme potencial para agricultura, principalmente quando consideramos o aumento da projeção populacional até 2050.
Segundo a Organização das Nações Unidas (ONU), estima-se uma população de quase 10 bilhões de pessoas.
Ou seja, o desafio será cada vez maior, e para atender a demanda, será necessário trazer para o agronegócio: produtividade, sustentabilidade e rentabilidade.
Por isso, a cada ano, surgem novas tecnologias que estão sendo inseridas nos processos de produção do campo.
Dessa forma, é possível garantir o aumento de produtividade, evitando o risco de perdas nas safra, visando um diferencial para o produtor.
Quando falamos de tecnologias aplicadas na agricultura, também nos deparamos com algumas limitações, por exemplo:
Incompatibilidade de alguns ativos na formulação (fertilizantes, biocidas, etc);

Mecanismos de ação e as rotas morfofisiológicas que o produto atua na planta:

Problemas referente as formulações específicas, por exemplo: pH, temperatura e radiação solar.
Afinal, como solucioná-los de forma a trazer mais benefícios para o setor agro?
Como é possível alcançar soluções seguras, sustentáveis e eficazes?
Download the E-book: Natural capsules for encapsulating fragrances, nutrients and bacteria
How TNS Nano influences the agro segment
Several solutions can be presented to solve the same problems: produce more with less and avoid wasting agricultural products and inputs, but few are really effective.
Many researches with nanotechnology in the agro sector are focused on reducing the use of pesticides and pesticides.
For example, the use of TNS nanoparticles in foliar fertilizers in the field, providing a productivity gain above 30% per hectare.
In the fight against rust, a common disease caused by fungi, the incidence dropped by around 15%.
Imagine all the advantages you would have in using a highly effective biocide, which could reduce the dose and ensure more health for your planting in a sustainable way.
Não só os benefícios financeiros seriam enormes, como também diminuiria o risco de contaminação ambiente e de toxicidade para os organismos não-alvos.
There is no doubt that the nanotechnology no setor agro é um grande diferencial e um dos maiores aliados na produção de alimentos.
Investir em novas tecnologias significa acompanhar as demandas e necessidades do mercado, a fim de garantir mais competitividade para o produtor e agregar maior valor à sua produção.
Read more: Use of technologies to increase productivity in agriculture
Tecnologia no agro, o futuro é agora!
De forma geral, pode-se dizer que o foco da nanotecnologia no setor agro, se difere das aplicações convencionais.
According to the agronomist engineer at TNS Nano, Tamires Naira, the objective is to strengthen the plantations and not fight against pests when they are already installed.
Above all, our focus is to develop additives that stimulate self-protection mechanisms, it is possible to ward off diseases and increase productivity.
The Health and Safety 925 it is a sustainable additive, composed of a suspension based on ions stabilized with plant extracts.
Furthermore, its formulation is stable, does not generate residues and does not accumulate trace elements in the morphological structures of plants, being a viable innovation that adds a positive impact.
Definitely, technological advance is an irreversible movement and increasingly present in our lives, and nanotechnology applied to agroindustry is a growing and necessary reality.
Read more: Use of technologies to increase productivity in agriculture
Differentials and benefits of technology applied in agro
In addition to being extremely versatile, we can apply it in agriculture and animal production facilities.
We list here the main differentials that TNS Nano's additives can provide for your business:
Special coating for seeds with biocidal activity;
Additive based on nanoparticles stabilized with plant extracts with biocidal characteristics;
Encapsulation of nutrients, biologicals and essential oils.;
Capsules with triggers and controlled release;
Packaging with antimicrobial protection for perishable products;
Promotion of quality in planting;
Reduced losses and increased productivity and profitability per cultivated area;
Improvement in the processes involved in the business;
Cost reduction and mainly waste;
Improved nutritional efficiency of plants;
Promotion of health and uniformity in planting.
Read more: Biologicals in agribusiness: Know the chemistry behind
In compliance with the regulations
Arbo-925 is a polyflavonoid based additive.
It complies with regulations and authorized by the Ministry of Agriculture, Livestock and Supply (MAPA).
Therefore, it is allowed for use in mineral fertilizers through IN 27 and IN 39, in the classification of actives based on polyflavonoids.
Download the E-book: Technology in Agribusiness: Sustainable Additive
TNS technology agro influence
Finally, after mentioning the many benefits of nanotechnology in the agro sector, it is easy to understand the enormous potential that can be generated in your business at the time of cultivation and harvesting.
With the forecast of growth in the agro sector, this signals for the industry the need to prepare to meet a greater demand for technological solutions.
Therefore, TNS invests in high-end additives quality that add greater productivity, reduction of losses and profitability to the Brazilian producer.
Our additive, Health and Safety 925, has been tested on multiple crops, generating positive results ranging from plant vigor to their reproduction stage, offering healthy planting throughout the entire cycle.
It has compatibility with different molecules and its use with agricultural inputs is able to expand the effects of formulations through the synergy between the actives.
Finally, our additive, Abro-925, can add differentials focused on the development of plant metabolism and on helping to control phytopathogenic diseases.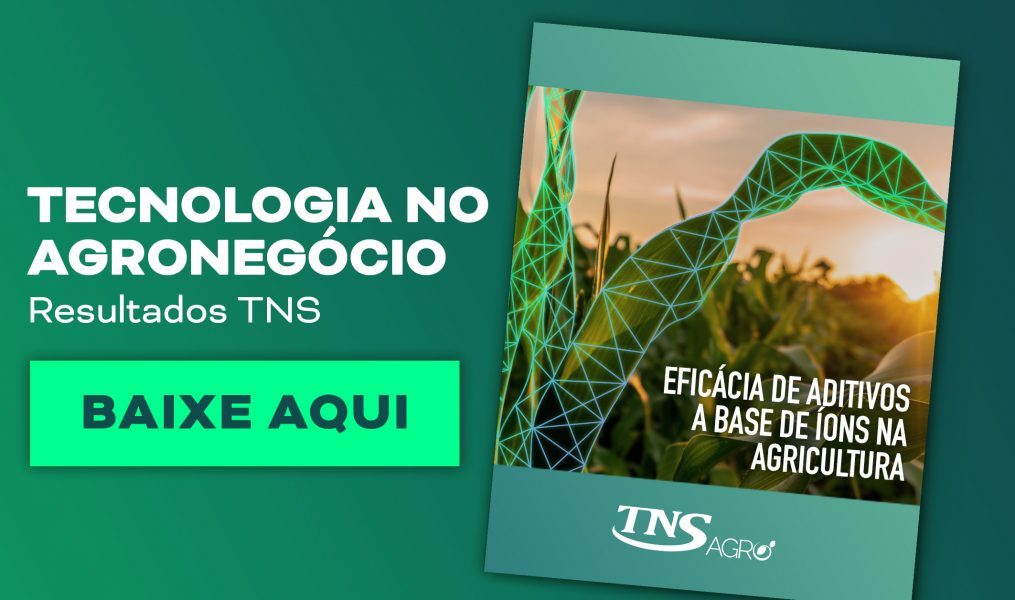 Want to know how we can help? Contact our team of experts and together we can offer productive quality with high technology.
Did you like the post? So leave your comment and don't forget to share it on your social networks!
Access more exclusive content by subscribing to our canal do YouTube, following our blog and following TNS on LinkedIn, Facebook e Instagram.