TNS nanoparticle has antiviral activity
Since its foundation 10 years ago, TNS has created a solid innovation background by helping several companies to improve their products through the insertion of nanotechnology in multiple segments, such as polymers and plastics, textiles, ceramics, paints and among others.
Today on the pandemic, our team remains focused on adapting our products to different markets, in order to provide antiviral activity in a joint action against the new Coronavírus.Diante addition, today the TNS offers to market a product antiviral and antimicrobial proven effective virus enveloped and non-enveloped (more resistant than enveloped), a reduction of up to 99.999% against the strains tested.
(Notes: a log reduction of 5 is equivalent to 100,000 times the effectiveness). The tests were carried out in an independent laboratory, with viral models considered more resistant in both categories, namely Herpesvirus (HSV) and Adenovirus.
This product aims to prevent the spread of the virus and other infections over materials and surfaces, as well as to contribute to reducing the risk, speed of contamination and transmission of the coronavirus. TNS has been striving every day to help improve people's lives by bringing innovation to different areas and making the use of micro and nanotechnology a reality, to help the urgent need of society around the world at this time.
PROTEC-20 against viruses
The TNS PROTEC-20 product is a unique formulation of nanoparticles stabilized by a natural protective surface, designed to inhibit the growth and permanence of bacteria and viruses on surfaces with high strength and efficiency. As already mentioned, PROTEC-20 targets both enveloped and non-enveloped viruses (lipid envelopes), as is the case with the coronavirus.
The PROTEC-20 provides rapid deactivation of viruses (15 minutes or less), besides assisting in the inhibition and replication of bacteria, which can be considered possible host cells for the virus, which is a mandatory intracellular parasite.
TNS antiviral solution can be applied to a broad spectrum of materials as well as incorporated in polymers and textiles, including masks, sheets, curtains, air filters, medical aprons, among several other medical/hospital and household items.
Based on this,TNS will redirect priorities to focus on applications that are of interest to public health.
Following the values ​​of TNS, such as a sense of urgency, innovation and ethics, our position while facing this challenge will follow our current business model:
– We will prioritize efforts for applications that will most significantly assist in a different way in fighting the virus;
– With our supplier partners, we will spare no effort to immediately make significant quantities of product available to the market;
– We will maintain our margins according to the historical standard and seek all possible opportunities with the increase of scale to make our solutions even more accessible to the public;
– We will protect ourselves from the right to suspend deliveries to customers who choose unjustifiable price increases for products that incorporate our solutions.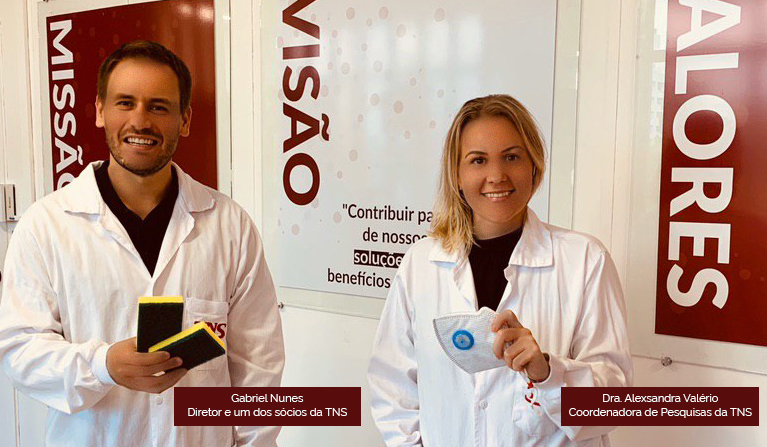 In the picture above, at the left Gabriel Nunes General Director to TNS, and at the right Dra. Alexsandra Valerius Research Coordinator at TNS.
For more information regarding the sending of samples, business plan and PROTEC-20 details, contact our team at the button below: [email protected]